Who doesn't like Mexican food…especially on game days…nachos, taquitos, guac…oh my!  The calories and fat can really add up.  If you're hosting the crew for the big game this weekend, try swapping the old (high calorie) faves for these Sweet Potato and Chicken Fajitas!  We promise your guests will not be disappointed.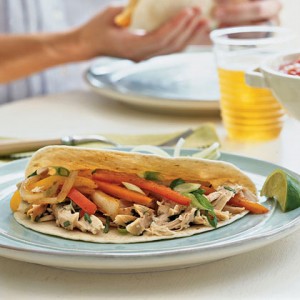 Ingredients:
2 small sweet potatoes, well scrubbed
4 tsp. olive oil
2 poblano chiles, stemmed, seeded and cut into thin strips
1 medium onion, halved and sliced
12 ounces boneless, skinless chicken thighs, cut into ½ inch-thick pieces
½ tsp. kosher salt
1 tsp. ground cumin
1 tsp. dried oregano
4 garlic cloves, chopped
½ cup chicken broth
8 corn tortillas, warmed
½ cup crumbled cotija cheese
¼ cup fresh cilantro leaves
Preparation:
1)   Pierce sweet potatoes with a fork and microwave on high until almost tender when pierced with a knife (about 3 minutes).
2)   Let them cool completely, then halve them lengthwise and slice diagonally into ½ inch-thick pieces.
3)   Heat 2 tsps. Oil in a large non-stick skillet over medium heat.  Add chiles and sauté until softened slightly.
4)   Add onion and sweet potatoes and sauté until golden brown (about 8 minutes).
5)   Transfer vegetables to a large bowl.
6)   Heat remaining oil in the same skillet.  Add chicken and sprinkle with salt, cumin, and oregano.  Sauté until chicken is browned and cooked through (about 6 minutes).
7)   Return veggies to skillet, add garlic and broth and simmer until liquid is almost evaporated (about 2 minutes).
8)   Divide fajitas mixture among tortillas.  Sprinkle with cotija cheese and cilantro.
9)   Enjoy!
Nutritional Info: 406 calories, 26 g protein, 47g carbs, 15g fat, 7g fiber, 504 mg sodium.
*Serves 4