The Sports Brat recently asked Washington Redskins Offensive Tackle Tyler Polumbus 10 questions.  Here's what he had to share: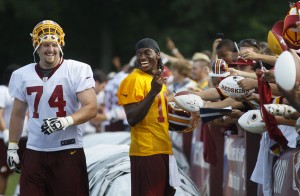 TheSportsBrat: What's your go-to style for days off?
Tyler Polumbus: Sweats or shorts and a dri fit
TSB: Who has been the biggest influence on your life?
TP: My Dad
TSB: What is one guilty pleasure you enjoy too much to give up?
TP: Twitter
TSB: What do you think about more than anything else?
TP: Honoring God
TSB: What position do you sleep in?
TP: Side
TSB: What's your all-time favorite town or city? Why?
TP: Denver – Born and raised there.  Has the best weather in the country and of course the mountains.
TSB: What music do you listen to before a game?
TP: Capital Kings, Rend Collective, Disciple, etc.
TSB: If you had to change your first name, what would you change it to?
TP: I like my name
TSB: What's the one thing you cannot leave your house without?
TP: My cell phone
TSB: What can always cheer you up?
TP: My wife