I have yet to try a recipe from my girl Whitney Bond that I don't absolutely love but when I cooked these up for my mock Friendsgiving, they were the hit of the party!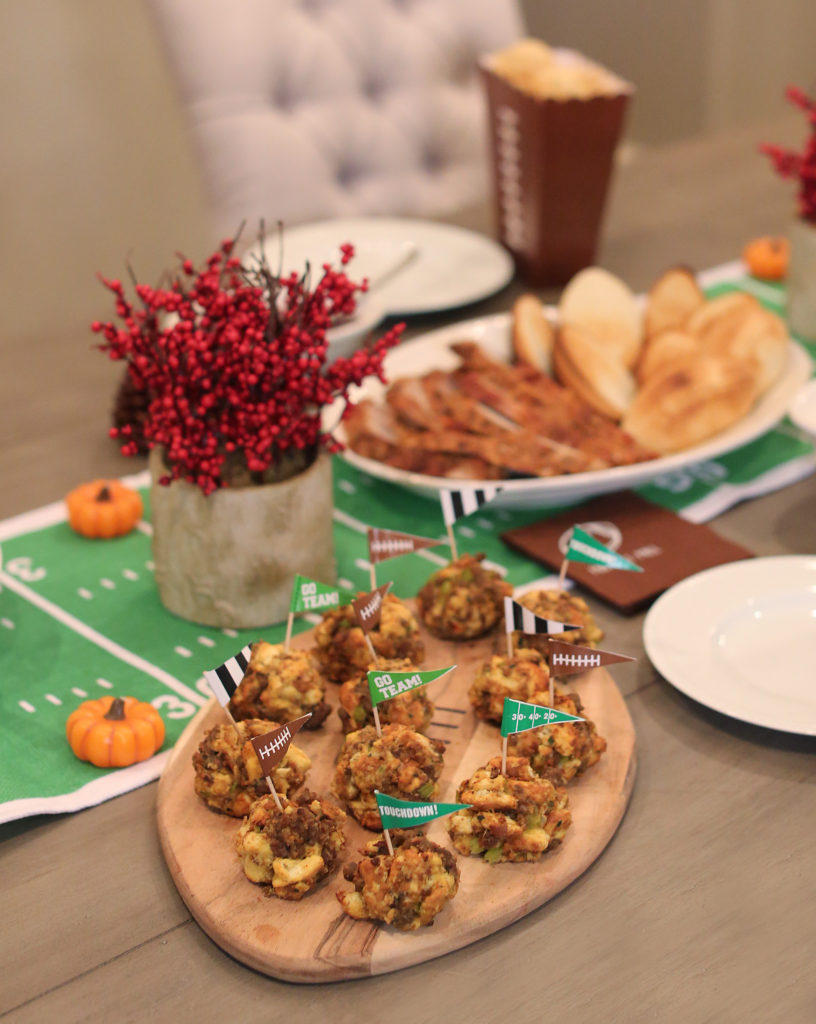 Here's the thing about my Friendsgiving…I wanted all the recipes to be tailgate-friendly, meaning no need for utensils!! WAHOO!  So not only were these so tasty but what a great way to bring your turkey day favorite to the tailgate.
Ingredients:
1 lb pork sausage
2 tbsp butter
3 stalks celery (chopped)
1 cup diced yellow onion (Whitney calls for a red onion but I swapped it out because I don't love red onions)
2 garlic cloves (crushed)
¼ tsp salt
½ tsp black pepper
2 tbsp fresh sage (chopped)
1 loaf or 6 cups potato bread (cubed)
2 eggs (whisked)
½ cup chicken broth
Preparation:
Pre heat the oven to 350°F.
Cook the sausage in a large skillet on the stove over medium heat.
Once the sausage is cooked through, remove from the skillet and place in a large mixing bowl.
Place the skillet back on the stove and add the butter.
Once the butter is melted, add the celery and onion.
Cook for 4-5 minutes, then add the crushed garlic, salt, pepper and sage. Cook for an additional 1-2 minutes.
Remove from heat, and add the celery and onion mixture to the sausage.
Add the bread and toss.
Add the whisked eggs and chicken broth.
Use your hands, or a large spoon, to mix everything together, then form into 14-16 medium-sized balls.
Place the sausage stuffing balls in the oven and cook for 30-35 minutes.
Enjoy!
Friendly tailgate tip…I topped these with adorable little football flags from Party City. And the football board is from The Royal Standard.  I cannot thank Whitney Enough and you can check out her recipe here since she's the professional 🙂