I absolutely am obsessed with these two emerging talents, known as "The Walk-Ons."  If you follow a small program on social called "College Game Day," you probably saw Meghan O'Donnell and Sam Ward.  That's right, ESPN invited them to hit the road for the college football season and travel with the Game Day Crew.  They got to cover everything from the game to food to talent.  Next up, they're launching a podcast.  Trust me, these girls are doing it!  And I'm so lucky to have gotten to chat with them!  Here's our Q&A!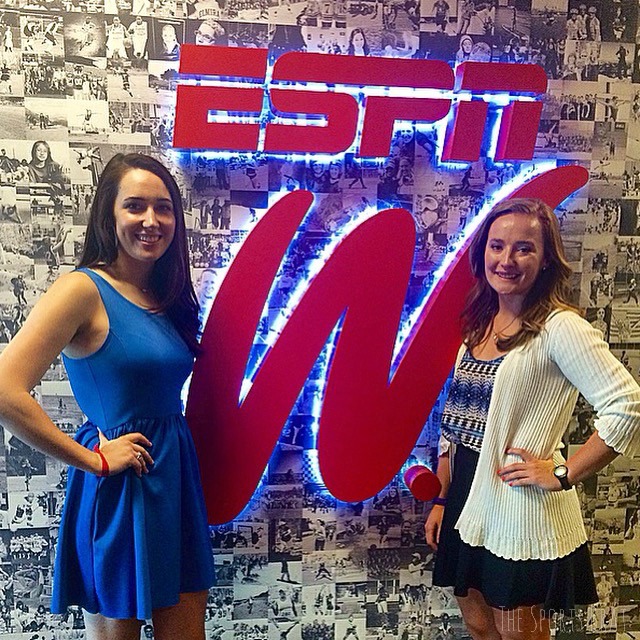 Spoiler Alert: They're in college and have more wisdom than most people in their 40s…and a sense of humor to match…get ready to laugh and be inspired with this one!!
The Sports Brat:  You guys have had quite the season! ESPN's College Game Day invited you along with them each week as they traveled the country. What was that like? What was the best part or best memory for each of you?
Meghan O'Donnell: It was amazing. I mean it was basically getting to travel the country, watch college football, and hang out with your best friend. Pretty cool. The first week we went to the UNC-South Carolina game in Charlotte and then flew to Texas for the Bama-Wisconsin game and I don't think we slept that entire weekend because we were so excited. I was bouncing off the walls. I remember repeating "this is the coolest thing ever" to Sam the whole time.
Sam Ward: Its always been my dream to work for ESPN's College GameDay, but if I remember correctly, I think Meghan was actually the one who started to cry when espnW said yes to our idea (haha sorry Meghan). I loved every minute of it! It was amazing to be able to travel the country with my best friend! And the GameDay crew became our on-the-road family so we had so much fun with them every weekend.
My favorite memory also has to be Clemson. That whole weekend was an adventure. First, they gave us a 2016 red mustang convertible as a rental car so we took advantage of that ha. Then one of our best friends who we interned with this summer came to visit us for the weekend. It was a crazy weekend with the hurricane – we lost power in the hotel and got soaked at the game – but it was definitely one of the most memorable and fun weekends.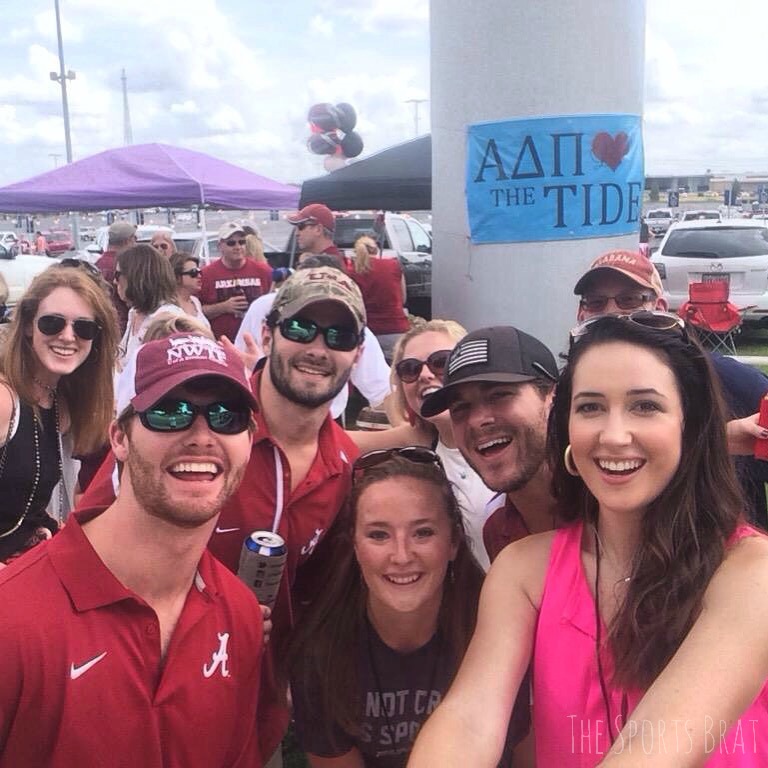 TSB: How did you guys meet? How did you start the Walk-Ons?
MO: We were roomed together during our ESPN internship. It's funny because people always ask us how long we've known each other, even over the summer, and we were like "uhh just a couple of weeks." We actually emailed the ESPN internship coordinators to thank them for rooming us together because that's how we came up with the walk ons. We always used to stay up super late talking in our room every night (drove our suite mates crazy) and one night we were like wouldn't it be cool if we could hang out with the sportscenter anchors and just play games with them. And that's how intern interruption (now the walk-ons) was born. We thought it was hilarious but we were super tired when we came up with the idea so we ran it by everyone the next morning to make sure we weren't insane.
SW: All of the ESPN interns lived together in a dorm and we were randomly roomed together. We hit it off instantly and everyone assumed we had known each other forever even though we had just met! We stayed up really late every night talking and one night at maybe 2 am we had the idea to start Intern Interruption. It turned out to be a big hit on campus and one anchor who we had never met before (Field Yates) recognized us from our videos and asked to come on the show. Then eventually Intern Interruption turned into The Walk Ons.
TSB:  I got my start at ESPN in Charlotte, what was is like interning there in Bristol?
MO: It was the greatest 10 weeks of my life. That seems over-the-top, but it isn't. I worked in Stats and Info and it was so much fun. I was in heaven. getting to work on SportsCenter, NFL Live, Mike and Mike, and everything was so cool. But on top of that I think the group of interns we got to work with it just made it such a great experience. We had a great group and I made some really great friends. I didn't want to leave.
SW: I completely agree with Meghan. It was the best 10 weeks of my life. I loved every single day and we had the best group of friends interning with us so there was never a bad day. I was in heaven being able to hangout on the SportsCenter set, interviewing the all of the anchors for our show, writing articles and doing videos for espnW. There were different opportunities everyday that made the summer so special and exciting!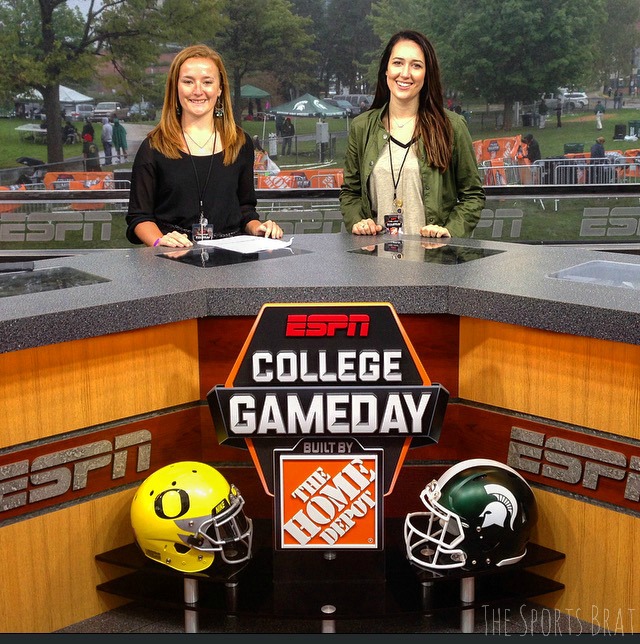 TSB:  What do each of you want to do after college?
MO: I'll be going back to work for the Stats and Info group in Bristol when I graduate. After that, the ultimate goal is to be a general manager, preferably of the Phillies 🙂 In between I have a lot that I want to do and I'm not sure how or when yet haha. I had been interested in doing more on-air stuff but I also love the business and analytical side. I know that I definitely want to stay involved in soccer as well, either through coaching, announcing, or the front office, just because that was my first love and what really got me interested in sports.
SW: I am currently looking for different on-air positions to apply for. I would love to keep traveling for GameDay if that works out but if not Im looking for a job that lets me travel and cover football or basketball.
TSB: What are you currently working on? What's next?
MO: I'm currently recovering from open hip reconstructive surgery so I'm limping around on crutches for a few more months and finishing up my last semester. I'll just be doing some play by play and color commentary for UD basketball. Then after graduation Sam and I are planning to travel! Then I'm going back to Bristol as I mentioned and hopefully getting my master's at the same time.
SW: I actually just got back from San Francisco where I covered the Super Bowl for my journalism school! I had the best time! My J school has 3 student produced shows so I film and edit videos for them.
After graduation, Meghan and I are planning on traveling! Ill be in Rio for a month covering the Olympics so we are hoping to travel sometime in June!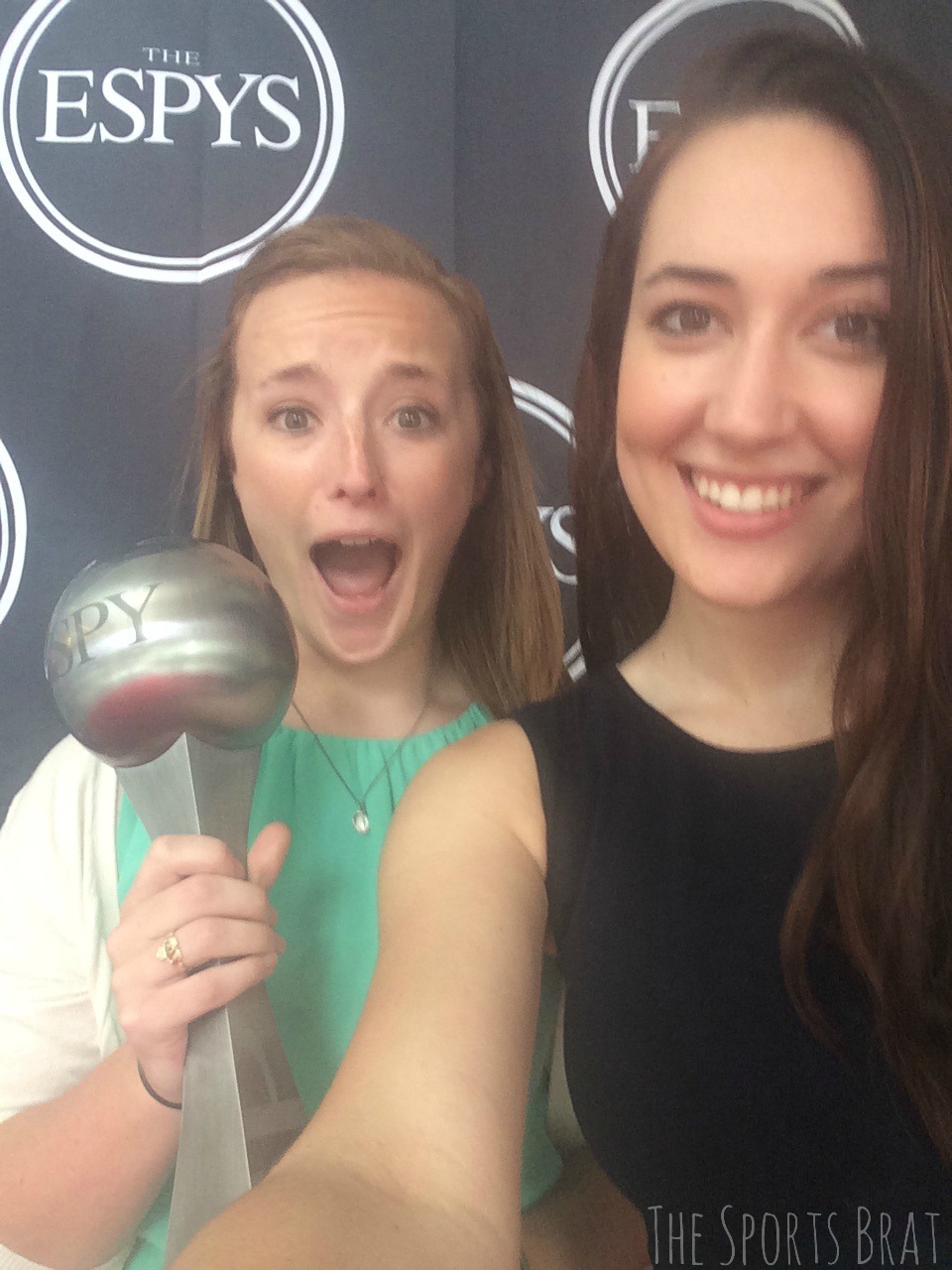 TSB: Ok now the fun stuff, what's your typical game-day look when you're rooting for your respective colleges?
MO: Sam can attest that I typically go all out in my game day attire. At the Notre Dame game,  I rocked the ND shirt, bracelet, earrings, and face decal. Also no game day outfit is complete without color coordinated beads. Just saying.
SW: Definitely have to go with the jersey! I'm a huge UNC fan and I have a jersey signed by one of my favorite players, Kendall Marshall, l so I wear it to every game I'm not covering.
TSB: Speaking of teams, who do you root for?
MO: Well I go to UD so go Blue Hens! But my first college football love is Notre Dame. After my Fighting Irish, I'm a Philly girl so all Philadelphia sports…especially the Eagles and Phillies. So it's been another heartbreaking year.
SW: UNC all the way! Huge Panthers and Warriors fan too!
TSB: What's your favorite tailgate snack of all time?
MO: This is tough because as long as I don't have to make it, I'll eat it. But probably nachos. They're a classic.
SW: Definitely stadium pretzels and margs. Meghan didn't put margs in her answer but we both love them.
TSB: Now this is important, if you were being introduced either as you come up to bat or enter the arena, what song would be playing?
MO:  "Hot in Here" by my boy Nelly. 100%.
SW: I always think of a great answers for questions like this when its too late but I asked Meghan and she said some Taylor Swift song…so I guess I'll go with Style because I played that song over and over again when we were traveling together. Meghan probably hates that song now because of me haha!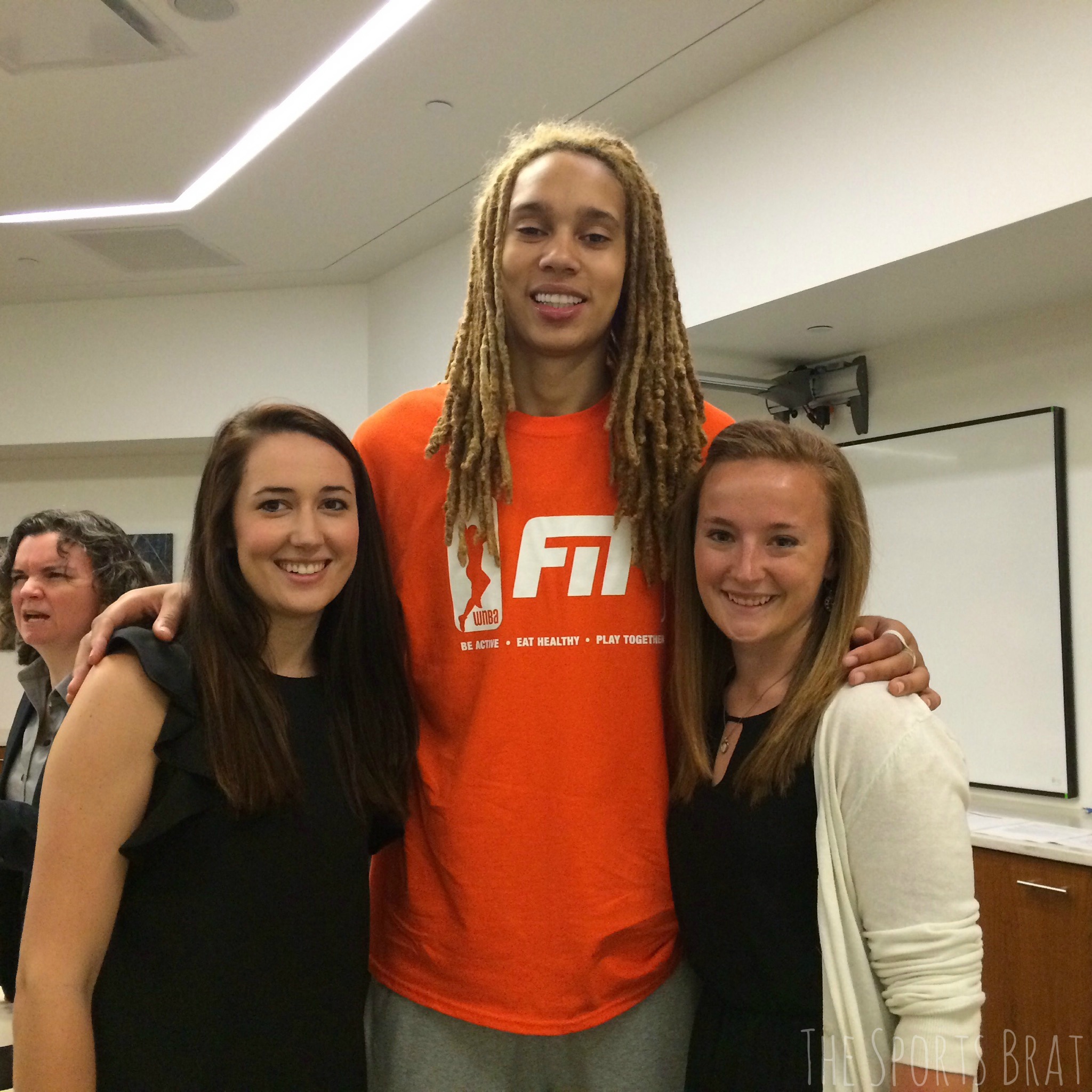 TSB: Who is your biggest inspiration?
MO: My parents and Bethany Hamilton. My parents have done everything for me and my three siblings while working full time. They're amazing and they've always supported me. And Bethany Hamilton, the surfer who lost her arm, because she's amazing. She's so positive and upbeat and she's still out there outsurfing most of the guys. It kind of puts things into perspective too. It's not what happens to you but how you react to it. Plus she's got a really cute family.
SW: As a Tar Heel, I have to say Stuart Scott. I never met him but from stories, he seemed like such a kind, generous and passionate person. I hope that I am able to always be as passionate about the job as he was. We have to remember that we are covering sports so you're supposed to have fun with it and if you're doing it right, it shouldn't feel like work.
TSB: Who is the most exciting person you were able to meet this last season and who is still high on your list?
MO: As a soccer fan, I'd say meeting Julie Foudy, Kristine Lily, and Kate Margraf and watching the WWC with them was the coolest thing ever. I came home from work talking a million miles an hour. I probably told Sam the story 30x. As for who I'd like to meet, Kobe Bryant. Or Donovan McNabb. Two of my favorite athletes of all-time. Plus Kobe's got that incredible competitive drive that I really admire.
SW: Adam Silver! Meghan and I were at the WNBA all-star when we spotted him in the crowd. We ran over to grab a picture with him but he ended up coming to an espnW event later that night too. Meghan and I are very outgoing so we ended up talking to him more than anyone else that night and we still keep in touch him. He is genuinely one of the nicest people I met this summer.
As a huge Carolina fan, my dream is to meet Michael Jordan.
TSB: Do you have any advice for anyone trying to break into sports and perhaps follow in your footsteps?
MO: My advice would be to talk to everyone. Everyone always tells you how important it is to network but I think that's especially true in this industry. Plus it's just fun to talk to people because you get to hear all of these incredible stories from people who have done what you one day hope to do. So don't be shy. Just go for it!
SW: Put yourself out there and be outgoing! Don't be afraid to introduce yourself to anyone and everyone because you never know who you'll met. And ask for help. Ask people to watch your videos, read your articles and get their feedback. Also be kind to everyone…not just the top anchors but everyone on the crew no matter what their job title is. I have met some of the nicest, sweetest people over the past few months so it's important to be friendly to everyone you meet.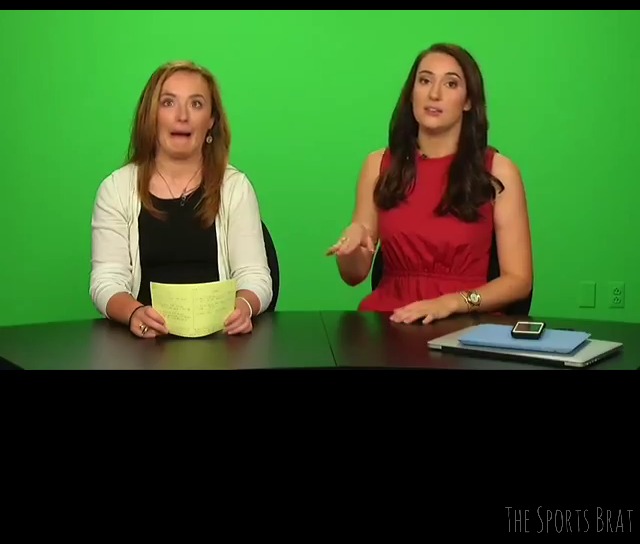 Thank you so much Meghan and Sam! I cannot wait to continue to watch your journey!!  Be sure to follow them as well:
Insta:
@The_Walk_Ons
@MegODonnell6
@Samantha_Ward16
Twitter:
@The_WalkOns
@Meg_ODonnell6
@Samantha_Ward16