If you haven't heard of Sam Gordon, you're in for a real treat.  This young and incredibly talented gal is the epitome of a sports brat: she's sporty, tough and a girl!  Sam's dishing on beating the boys, hanging with Colin Kaepernick and more!  But before you dive into the Q&A, check out her highlight reel!  Forget Mike, I wanna be like Sam.  SO impressed!
The Sports Brat:  You took a little time off from football to play soccer, are you excited to be back playing football?
Sam Gordon: I love playing football because you get to hit hard and I like to juke people out!
TSB:  Can you tell us how you got started playing football?
SG:  I always played soccer with my older brother, Max, and his friends out in the yard when we lived in Idaho.  They did not go easy on me, so I learned how to play tough when I was just four years old.  I started playing football at recess.  My teacher told my dad she didn't think I should play because it wasn't girly enough, but he ignored her and let me play.  When my brother started playing tackle football I would do the wind sprints with his team at the end of practice and I would beat most of the players even though they were three years older than me.  My brother's coach would yell at the players to "beat Gordon's sister."  After practice one day he talked to me and told me he thought I should play and the next year I did.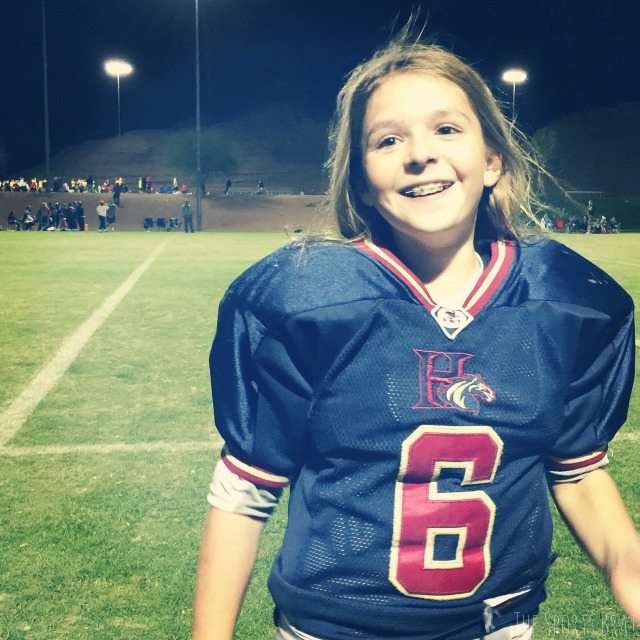 TSB:  What's your favorite position to play in football?
SG:  I like to play running back. On defense I play corner but I always wanted to play outside linebacker or defensive end because they get more chances to make tackles than me.
TSB:  Who's your favorite football team?
SG:  The 49ers for pro and BYU for college.
TSB:  And your favorite player?
SG:  I like Colin Kaepernick and JJ Watt.  I've met them both and they are really awesome.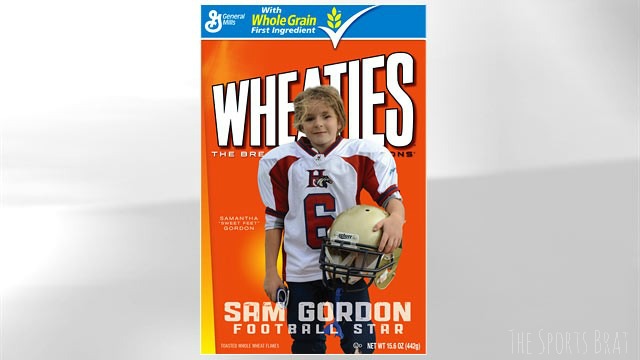 TSB:  You've already gotten to be on a Wheaties box, but what's your big dream now?
SG:  My dream is to play soccer for the USWNT and win a World Cup and Gold Medal.
TSB:  So I see you wear number 6…that happens to be my number! How did you pick it?
SG:  I picked the number 6 when I saw highlights of former BYU player Luke Staley before my first season and that's his number.  What is really crazy is that I didn't know it but he has a son in the league and he coached his son's team against my team.  After the game he asked my coach if he could get my address and he sent me a letter and some playing cards.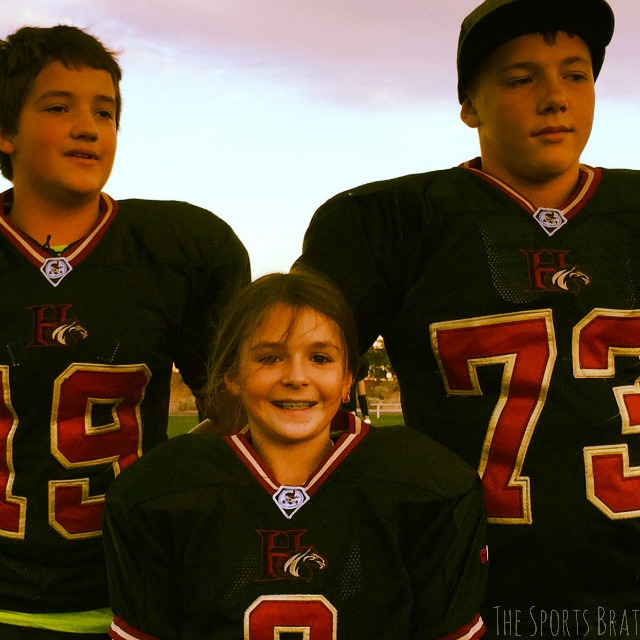 TSB:  What's the best part about playing with the boys?
SG:  Just seeing the expression on people's faces when they see the smallest player on the field, who is also a girl, make big hits and run faster than the boys.
TSB:  You're nickname is "Sweet Feet" because you're quick and you are known for your jukes! What's your favorite move?
SG:  If I can get to the outside I'm gone.  So if the d end gets deep into our backfield, I'll cut up and out.  If the d end cuts in then I'll go around the outside.  I was really proud of a spin move I made for the first time in my final game of the year – I tried it in warm ups and then did it in the game and it got me a few more yards.  I'm going to try that more next year.
TSB:  Last question…what's your favorite post-game snack or treat?
SG:  I definitely love muddy buddies with chocolate milk!
If you want to keep up with Sam, you can follow her on Twitter: (@Sam_Gordon6). Facebook: (Sam Gordon Football) and Instagram (@sam_gordon6).  You can also subscribe to her YouTube Channel here.