There isn't anything more American than football..and you know I LOVE football! Jordan Bosstick, from Miss American Made, a blog focused on all American made products, chatted with me about football, fashion and what she's thankful for this year. We're loving her mission! Learn more: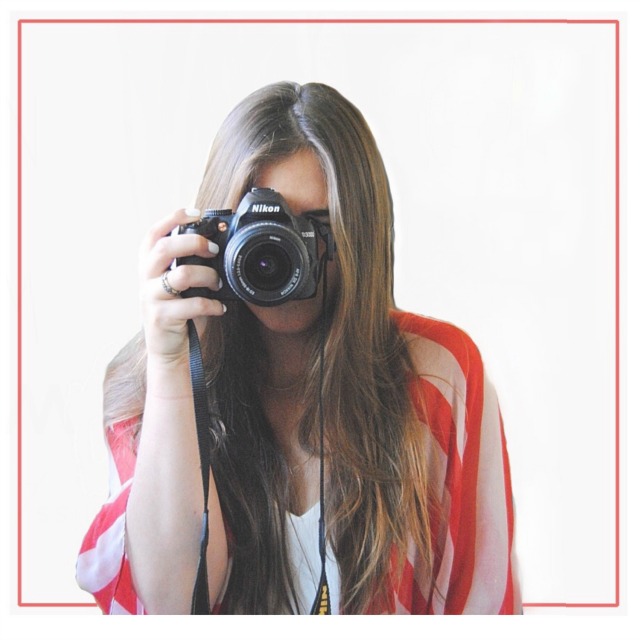 The Sports Brat:  You're redefining the term "All-American" with your blog, Miss American Made. What inspired you to start your blog?
Jordan Bosstick:  I really wanted to spotlight the people that are creating American products and American jobs, and show people that hands down, the best products are made in USA! The last few years have been rough for American workers. If I could choose one thing to really help people in this country, it would be jobs. American makers not only directly create jobs, they indirectly create jobs by using American raw materials.
TSB:  What's your go-to game day style?
JB:  I like to be super casual and comfortable. If the Chargers are playing, I'm usually wearing a Jersey. I also have some seriously amazing made in USA Chargers colored jewelry from MKaltenbach Jewelry. I love Football inspired gear that's not specific to a team for all the days the Chargers aren't playing. My Sunday Funday tee and black denim by Helmut Lang are my go to Sunday attire.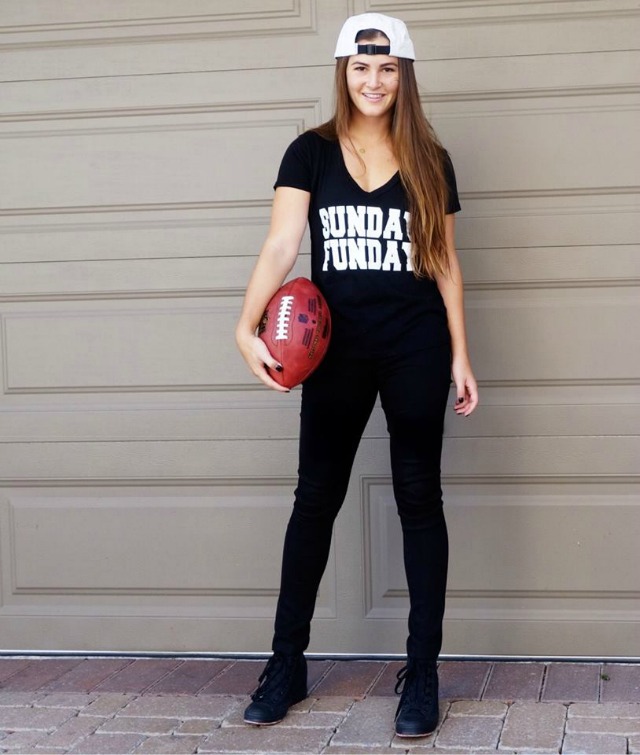 TSB:  You recently posted about an all-American football party, and I totally stole your "Sunday Funday" tee. What top brands do you love that offer sports-themed apparel?
JB:  I of course love my Sunday Funday tee by Project Social. They now have a long sleeve version for winter!!  It's finally cooling down in San Diego, so my next purchase will probably be this off the shoulder sweater by Fire Daughter Clothing.  Kid Dangerous and Retro brand make great stuff for guys. Also, the NFL manufactures most of their clothes in the USA! Even the NFL official Football is made in USA! I always add a cute team sticker to my cheek.
TSB:  Our readers know that game day footwear can be tough to find…we want chic but comfy for running around stadiums and tailgates. Any top American-made shoe finds you can share?
JB:  I love boots!! Their comfortable, stylish, and you can seriously find a pair of boots to go with any outfit. Especially game day! My favorite made in USA boot brands are Frye, Vintage Shoe Company, and Modern Vice. For guys, I love Broken Homme. You can see a full list of American made boots for men and women here.
TSB:  As you know, the NFL is enforcing a bag policy that restricts us gals from carrying our big purses to games. The alternative is a wristlet-sized bag or something clear. Do you have any all-American recommendations for our readers?
JB:  I personally don't really like to carry a purse to football games anyway. I want to have as little to carry and worry about as possible so I can focus on the game and having fun. I always opt for a card case instead and throw my ID, credit card, and some cash in it. I slip it in my pocket (or my boyfriend Nico's pocket, LOL!) and all I have to carry is my phone, which to be honest is always in my hand anyway! Right now I'm obsessing over this pouch by Baggu. I also love this card case by cosmic firefly.  These linen card cases by Fox and Fawn are adorable too.
TSB:  You had some yummy recipes on your football post, what's your go-to Sunday tailgate treat?
JB:  Hands down, Kettle Brand Jalepengo flavored chips served with my favorite dip (cottage cheese mixed with ranch flavoring) I swear it's to die for! Of course, we also always go to our favorite meat market, Iowa Meats, they make Bacon Burger patties, which are seriously unreal! I mean, who doesn't love burgers and bacon?
TSB:  There's nothing more American than some Budweiser, but do you have any other off-the grid, local beers that you recommend?
JB:  There are so many great American Made beers. This is a list of my absolute favorites.  If I had to pick my two favorites, I'd say any IPA by Ballast Point Brewery or Stone Brewing Co.
TSB:  Ok we have to ask, who's your favorite all-American athlete?
JB:  OMG it's so hard to choose just one! I think I'd had to say Derek Jeter because I grew up watching him play. His retirement has been so emotional for the entire country!
TSB:  We know you love horses. What's something you can share about horseback riding with our readers? We know it looks a lot easier than it actually is!
JB:  It's definitely harder than it looks! You have to be in such great shape to ride competitively. The one thing I love most about horses though, is the unique relationship I have with my horses. Over time you develop a really strong bond.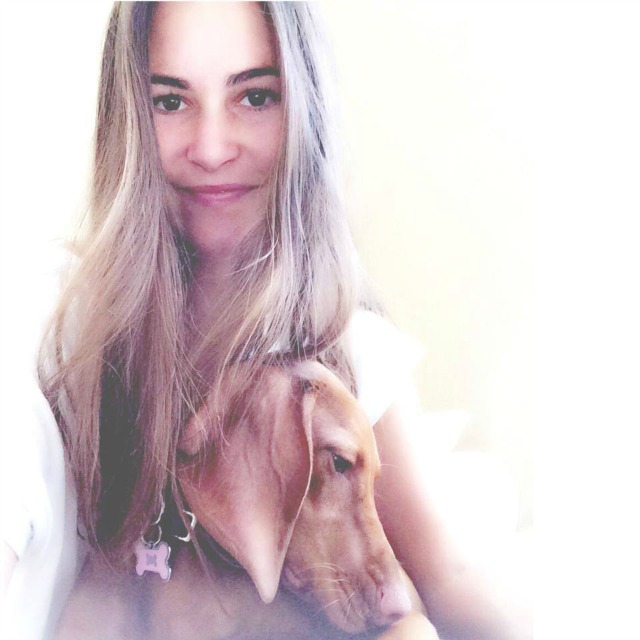 TSB:  With Thanksgiving just passing, there was football, food and festivities that celebrate all things AMERICA…is there anything you were especially thankful for this year?
JB:  I'm definitely most thankful for my family, which includes my boyfriend Nico and our Vizsla puppy Lanya. This may be cliché, but I am SO thankful for being born in the greatest country on this Earth, America!
Make sure to check out Jodan's blog, Miss American Made, for all of her awesome finds from the good old US of A!!