I am so excited to share my Q&A with founder of The Football Girl, Melissa Jacobs.  The former Emmy-Award winning ESPN producer founded TFG in 2009. Jacobs brings a rich passion for the NFL and the experience to tap into a variety of angles and sources.  This girl certainly knows football and is such a role model for women in sports.  AND she's proving that you don't have to be a man to know your stuff.  #inspired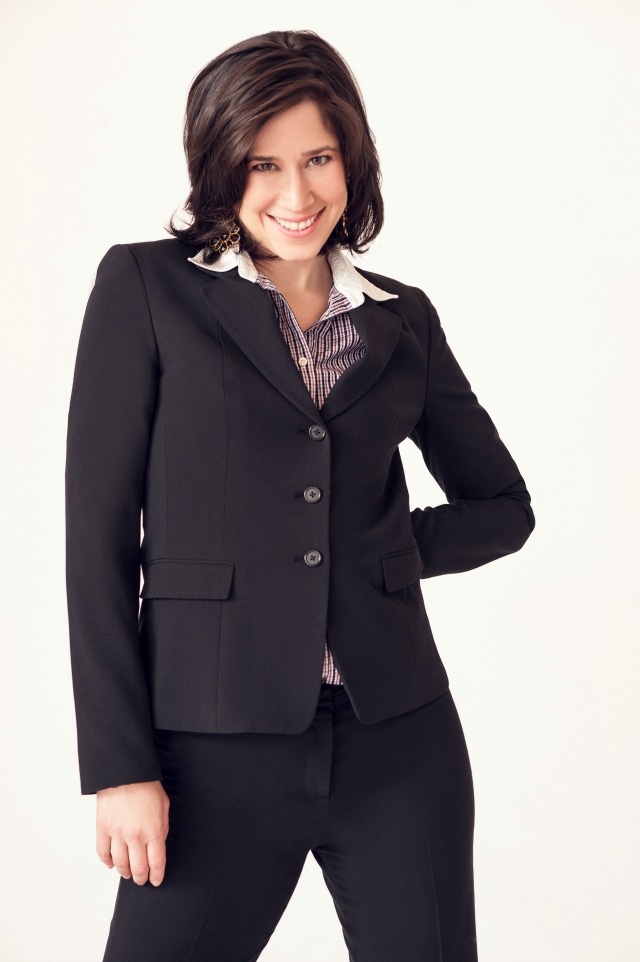 Melissa Jacobs, The Football Girl
The Sports Brat:  You're incredibly knowledgeable when it comes to football.  Let's start with the basics, who's your team?
Melissa Jacobs:  Thanks for the compliment! I am a Niners fan through and through. Growing up in the San Francisco Bay Area in the 80's and 90's, it was hard not to notice all the winning. We've hit a rough patch, though, trying to hopelessly claw for a playoff berth after three straight NFC Championships. I can't fathom the notion of Jim Harbaugh being traded. It makes no sense whatsoever.
TSB: What prompted you to create TheFootballGirl.com?
MJ:  After several years as a television producer at ESPN, I wanted to marry my experience and knowledge and develop something entrepreneurial. Around 2008, the NFL was in the beginning stages of a major marketing outreach to women through apparel and events. I decided to launch TFG to mirror their efforts from an editorial standpoint.
But I strategically wanted to avoid pink and anything overly condescending, Thus, TFG has always had sophisticated analysis, features, player interviews and other content that would appeal to any level of fan, while still providing some education and a few features, most notably our Featured Football Girl series, that could be considered "female-friendly."
It's been really cool to discover that our readership ranges from the degenerate fantasy guy who plays in fifteen leagues to a grandma watching her first game at the age of 68. I love it. The more the merrier!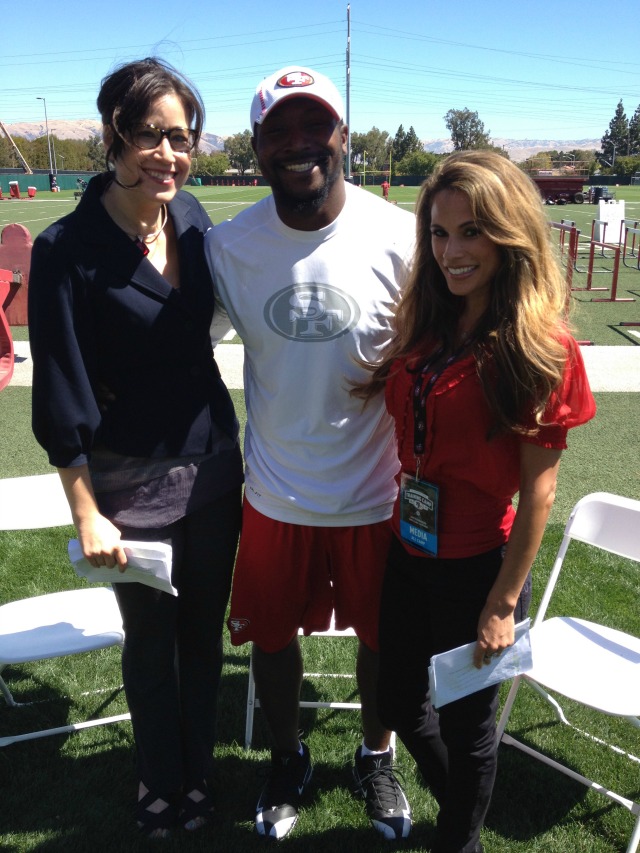 Jacobs with 49ers linebacker NaVorro Bowman and her friend Bonnie-Jill Laflin
TSB:  As you know, fantasy football is steadily gaining female participants.  What's your best advice to help sway those who still haven't joined?
MJ:  Do you like socialization? Are you competitive? If you answered no to both questions, you're lying. If you answered yes to at least one, fantasy will be your friend.
What is so great about fantasy is that it can be whatever you want. If you're new to football, you can join a basic league but by having specific players to root for you'll learn the game by osmosis. Missing your college roommate who's on an internship in London? Connect through fantasy. There are just so many options from league formats to the makeup of other owners to a range of prizes that you'll find something suitable
TSB:  Do you have a top fantasy football tip?
MJ:  That's a tough question. The thing about fantasy is there really are no absolutes. A lot of us offer advice and can help others strategize based on our experiences, but even the experts ranked "most accurate" are usually only about 45% or so.
With that sentiment in mind, I think it's really important to not follow someone blindly. I get a ton of people who ask me questions on Twitter – who to start, should they make a trade, etc. I love being helpful but I hope from time to time they go with their own hunches. You're just going to be so much more invested as an owner that way.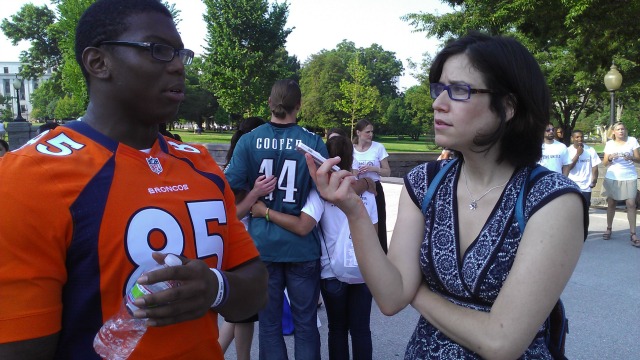 Jacobs interviewing Broncos tight end, Virgil Green
TSB:  I love your section 32 fans, 32 countries.  I did a study on the internationalization of the NFL in Business School, so can you tell us how you came up with this and how it works?
MJ:  Thanks! It's still not complete but we're getting there. Last summer, my husband got a temporary job in Switzerland so we moved the Sunday after the draft, in fact. In our first few weeks there I flew up to London to do a piece on NFLUK and attend an Andrew Luck fan event. At Luck's event, I spoke to many of the attendees, all wearing jerseys from just about all 32 teams, by the way and asked questions to gauge their knowledge and entryway to fandom. The answers were so interesting and varied that I started to wonder how fans in other regions that didn't get an NFL game or three, or in some cases the opportunity to watch on television, became fans. So I sought out to speak to 32 different fans of all 32 teams in 32 different countries excluding the US, Canada, Mexico and the UK. No expats. The folks I've interviewed so far are incredibly fascinating and offer a perspective that should intrigue the typical American fan and make us realize how spoiled we are.
TSB:  Care to venture a Super Bowl prediction?
MJ:  As much as I hate to say it, Seattle is getting hot at the right time and is probably the most complete team in the NFC, of not the league. Seahawks – Patriots. Pats win!
TSB:  Ok we know you've got football down but do you watch any other sports? Do you have any other favorite teams or athletes?
MJ:  I have two young kids – 3.5 and 7 months so I don't have time for much outside of the NFL. I'll try to watch other major sporting events when I can – obviously things like the World Cup or World Series. Growing up I was actually a bigger San Francisco Giants fan than 49ers fan. I loved keeping score and would go to as many games or listen on the radio whenever possible. But then I started my career working for KNBR, which is a part owner of the Giants, and being entrenched with a team is the best way to minimize your fanhood.
TSB:  We have something in common…both working on "Jim Rome is Burning."  Do you have a favorite Jim Rome moment?
MJ:  That's awesome. He's amazing. Let's see.. We were at the Detroit Super Bowl (2006?). My then-boyfriend (now husband), Dave, came to town late in the week and met me at the studio after one of our shows. I introduced him to Rome and Rome let out a boisterous, "Melissa's killing it!" It was total Rome-speak, and Dave was fully impressed!
TSB:  You've gotten to work with some of the best shows and talent in sports, what's left on your career bucket list?
MJ:  Wow, that's a great question. Because my background is so varied, I tend to be all over the place with my ambitions. I love my site but the idea of being a head content strategist for a well-funded outfit, where I can hire an array of fascinating voices and compete with the big dogs is really intriguing.
I'm going to write a book at some point because what's the point of wearing a writer hat if you're not going to write a book.
And lastly I want to create a sports-entertainment-political show that is better than any you've seen. I've always tried to marry those worlds to different extents in all of my jobs.
TSB:  Do you have any advice for young women trying to break into this business?
MJ:  Thick skin. Thick skin. Did I say thick skin? Even now, there are so many preconceived notions that come with women in the sports world, particularly those trying to discuss x's and o's. Be prepared to work five times harder than your male colleagues. Hard work will be rewarded.
Thank you so much Melissa!  Can't wait to follow you as you grow your already incredible career!!