I just got home from my first trip to Eugene, Oregon. I trekked north to see the U of O Ducks host the Arizona wildcats. I've never been to Eugene to see Oregon play so I was pumped! AND to make things even better, my dear friend is a U of O alum and former lacrosse player so she had the in when it came to Eugene.
You probably know that Eugene is the birth place of Nike.  And as soon as I landed, I adopted their "Just Do It" slogan as my mentality to take in all things Oregon on this trip.
First up, we swung by the girls' lacrosse practice right after we landed. They share their field with soccer and as a former soccer player, let me say I was JEALOUS of how nice their facilities are. When I played for Colorado, we were in the Big 12 so we didn't come to Oregon. Now that CU is in the Pac 12 they get to come here, so jeal. (Check out my throw back ESPNU piece on the conference change)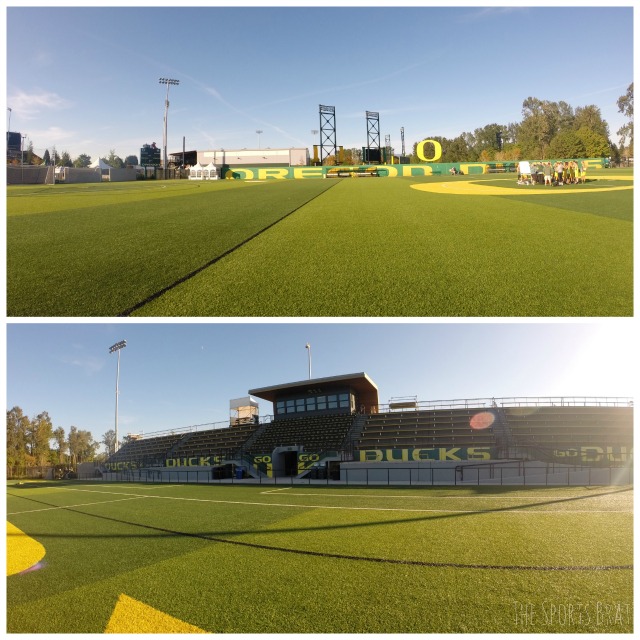 While we were at practice saying hello to my friend's old coaches, we got to meet the Strength and Conditioning coach of Oregon. He's been here for 30+ years and is a bit of a legend. Since my friend used to train under him while at Oregon, she scored us an invite to run the stadium steps at Autzen Thursday morning. Now this was super exciting because it was a rare opportunity to see the stadium at dawn on game day. What I wasn't thinking about was that I haven't run stadium steps in maybe 7 years and that I could potentially fall, puke…or pass out.  But hey…Just Do It.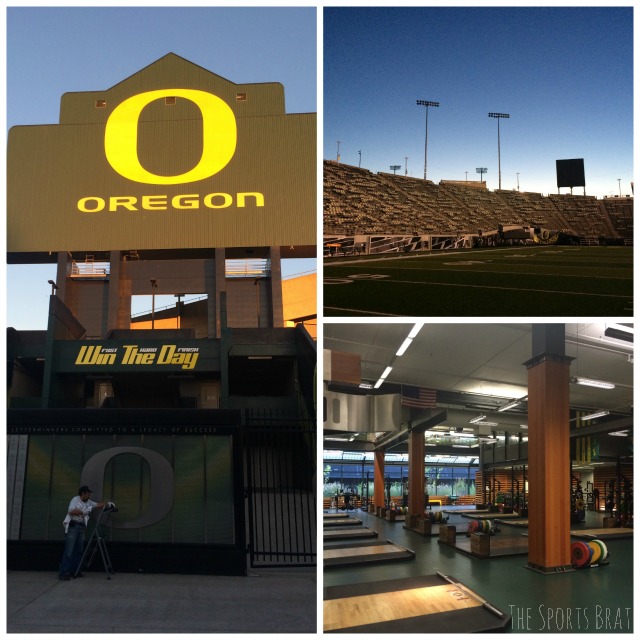 As the alarm sounded at 6AM, I felt like I was getting ready for training at college again. Butterflies were swarming in my tummy.   As we met him at the stadium, I realized that this was just like college, the second I stepped into the stadium the butterflies disappeared and it was GAME ON.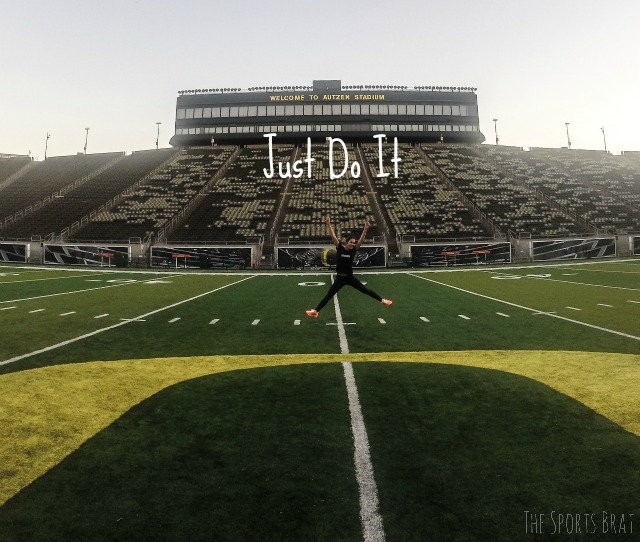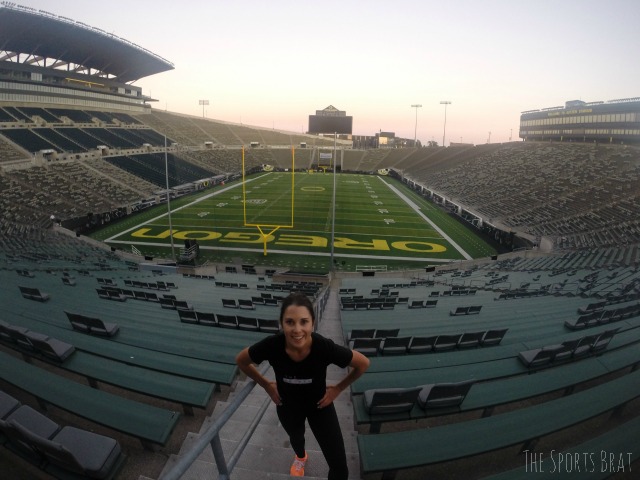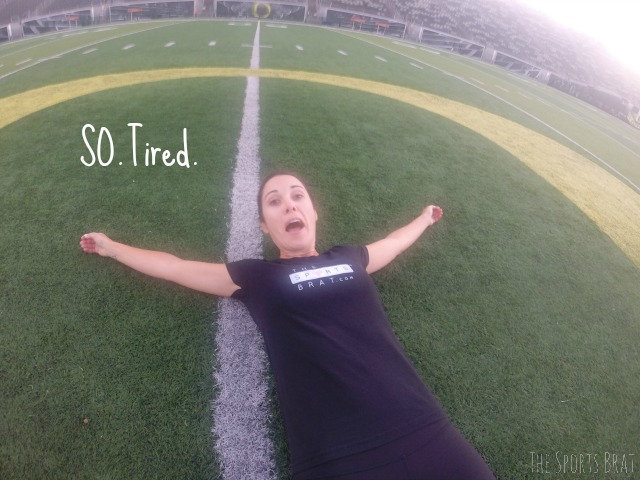 After some serious recovery we got ready for the game. Since it is officially fall in the Pacific Northwest, I opted for my favorite Donald J Pliner boots (sorry they're 5 years old so you can't get them anymore) and my brand new amazing Helmut Lang poncho. I needed to incorporate some green, so I added this little camo scarf to finish my look.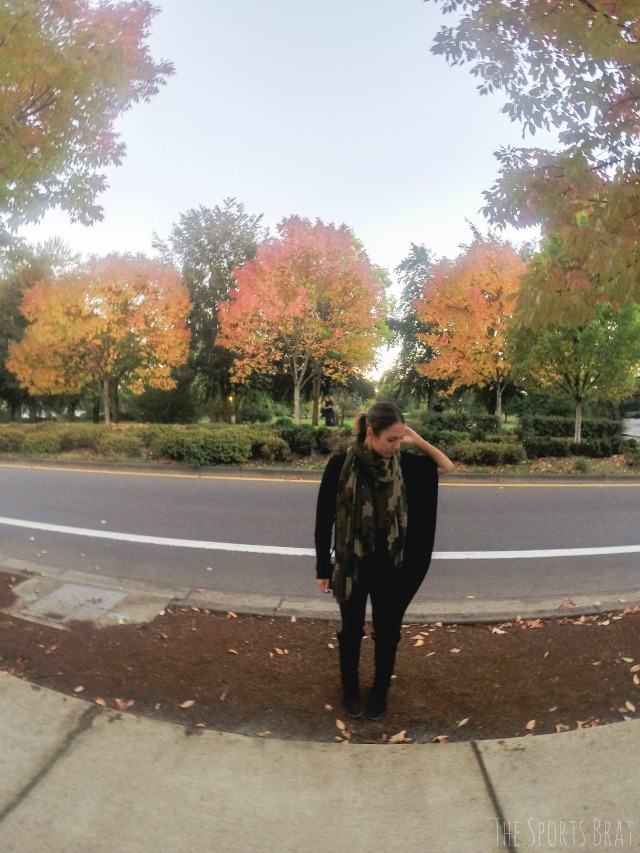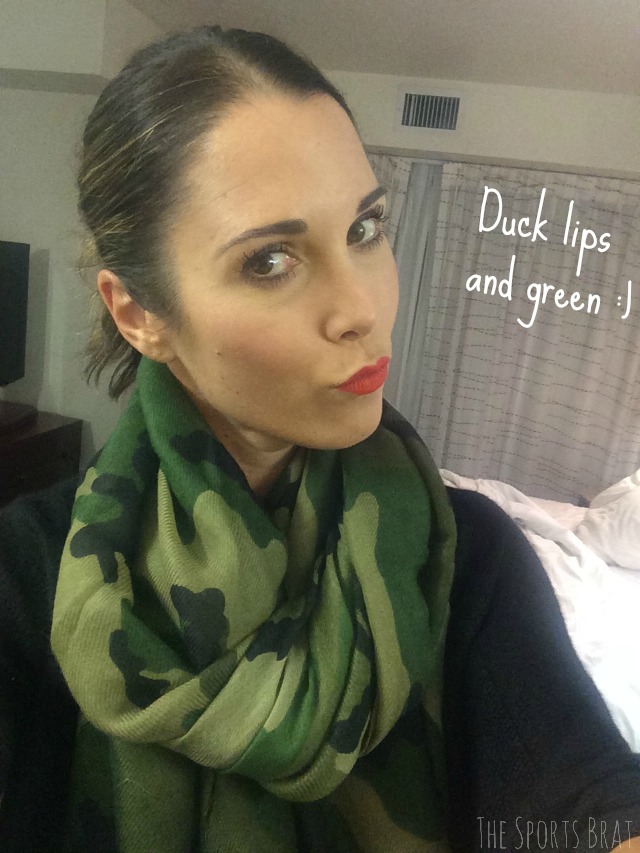 Autzen looked totally different with almost 60,000 people inside! It was jammin'! Here's a video of what it sounded like when Oregon took the field in their pink and black breast cancer-supporting unis.
It was unreal. You felt electric in that stadium. In fact, the stadium is so loud that Oregon QB, Marcus Mariotta, makes an appearance on the jumbotron during offensive sequences to ask the crowd to quiet down!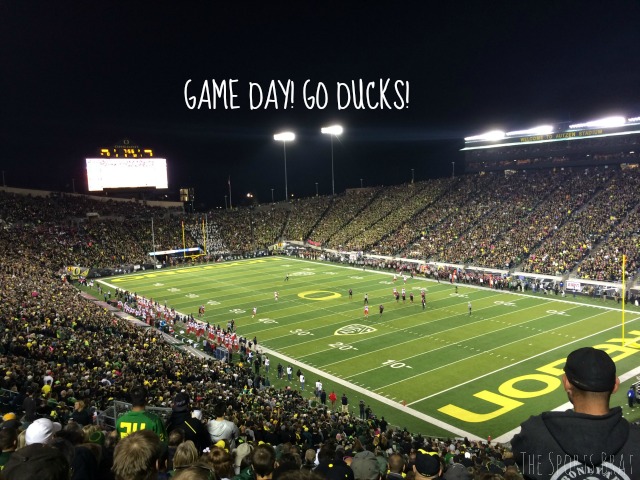 The game was one of many flags…seriously- there was a flag on what felt like every play. It dragged on and on so it felt like the rhythm was kind of off. When Arizona would score, the crowd would be so quiet I had to double check that, in fact, it was a touch down.
Sadly, it wasn't the Oregon team I had hoped to see play. The fast play offense and lights out defense just didn't show up. They were there for moments but the Oregon I'm used to seeing on TV is relentless and extremely disciplined. That team didn't show up Thursday and therefore, the Arizona Wildcats were able to take them down.
The crowd energy was high until the final minutes of the 4th quarter. At that point it was a mass exodus from the stadium and all I kept thinking was how it must feel to be on the Oregon sideline and see all your fans give up on you before the final whistle. I will admit, I used to be that fan, but on Thursday, we took a new approach and stayed until the crowd had cleared a little. I'm new to this whole die-hard fan thing but my advice is to support your team until that final whistle. True sports fans are there like good friends, through the good and the bad.
To wrap up the trip, we strolled across the foot bridge that connects campus to the athletic facilities.  While the walk was beautiful and the views left you breathless, the highlight was our Dutch Bros. coconut milk lattes that we picked up before the walk.  An Oregon secret for over 20 years, Dutch Bros. literally rocked my socks off.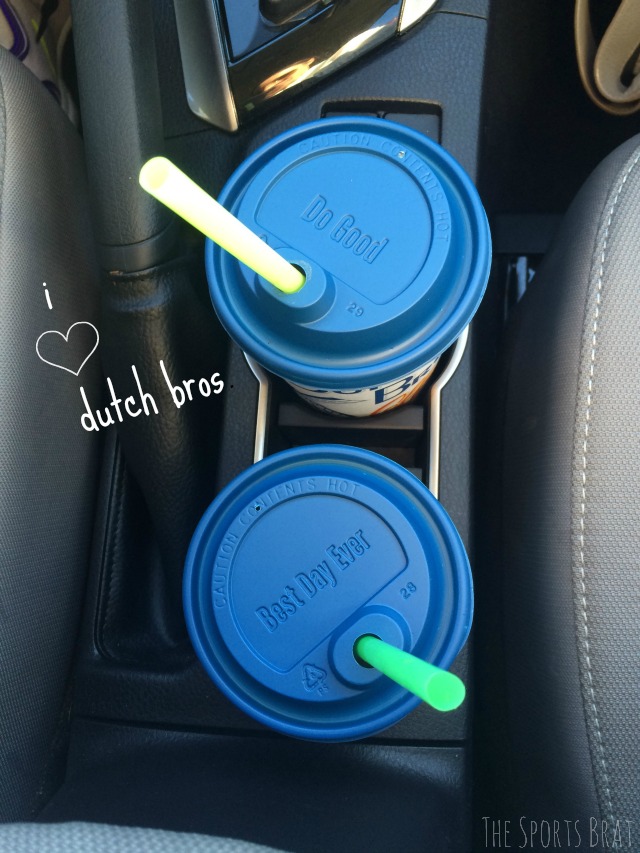 I really wish they would open one in California.  But this exclusive chain requires that you work for the company for one year before applying to open a franchise, so I'm not sure when I will be able to put in the time.  For now, I just may have to plan more trips to visit beautiful Oregon. #JustDoIt