In a recent conversation with a new friend of mine, I was reminded of a very popular New York event…the NYC Marathon. While I was previously living in Manhattan, this quickly became one of my favorite local sporting events (see our epic signage below).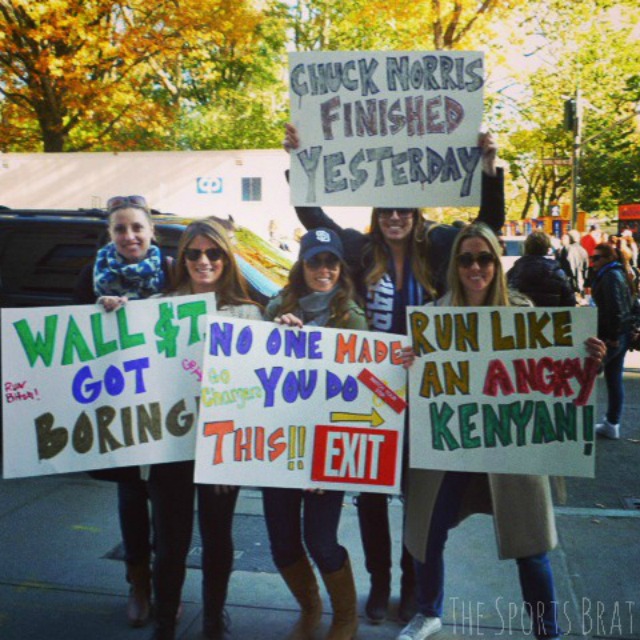 SO I wanted to help spread the word on organized races like the NYC marathon. While my teammates may recall me swearing off running for the rest of my life after each sprint workout in college, but I have to admit that running became increasingly enjoyable when someone wasn't yelling at you to "get on the line" or when I was in control of the stopwatch.  But hey, I'm not a fitness blogger, so I'll spare you that rant.
Generally you can just sign up for a race, but if you're interested in the NYC marathon, there's a bit more work to get into the race. With over 40,000 participants, it's the largest marathon in the world…so yeah; it's a little more exclusive.   So, there are 3 ways you can get in:
Run "9+1″ – You must run 9 New York Road Runner races and volunteer to work at 1 NYRR race.
Qualifying time – if you run one of the 3 qualifying marathons under the official time for your age group, you receive an entry.
Fundraising – You must raise $2622 or more for an approved charity. For example, two of my friends happen to be currently fundraising for Team for Kids. The funds raised by Team for Kids provide free or low-cost health and fitness programs to kids who would otherwise have little or no access to regular physical activity. This is an incredibly important cause, as we all know that childhood obesity is a massive problem in this country.
If you want to train, here is a phenomenal link that outlines the perfect way to get marathon ready and most of all it will ensure you finish!
Now this brings me to my next point. You can get involved with races and not even run in them. You can help to cheer runners on…YES even if you don't technically know anyone in the race…you do go to football games and don't technically know any of the players. Same concept. It's great to get out there and support, plus you can bring food and beverages, it's a totally new way to tailgate.
You can also support the runners and their selected charities. I don't often get too personal but I really love this event and I really believe in Team for Kids.
Have a great Monday ya'll!