I am excited to introduce this piece on Creighton Baseball.  Our new Special Contributor, Leslie Dill, gives us an inside look on what its like to be the first female manager of the men's baseball team.  Enjoy!
In terms of college athletics, when people think about student managers, they typically think about laundry duties, the guys sitting behind the bench handing each athlete his or her water bottle, and all the other less-than-glamorous responsibilities that typically come with the job. However, no one, when presented with the idea of a college men's baseball team, thinks they might have a female manager. And no one at Creighton University did until 2013, when I became the first female manager of the Men's Baseball team.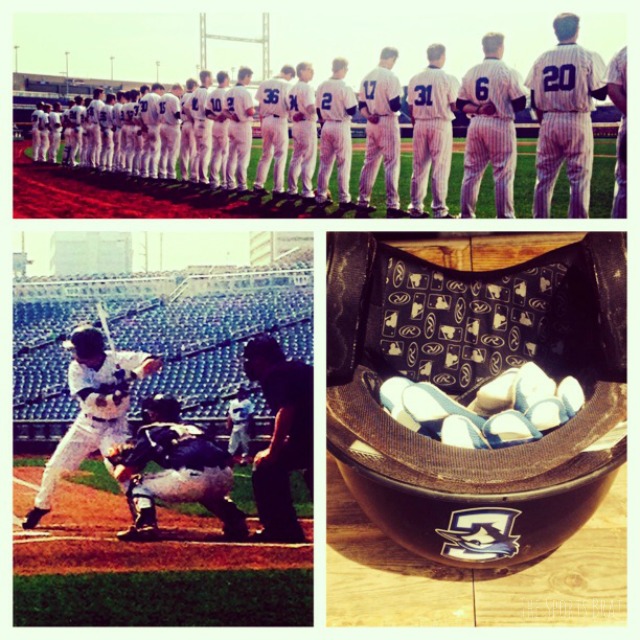 When I think about women in sports, I tend to think of women such as Val Ackerman, the female commissioner of the Big East Conference or even Condoleeza Rice, former Secretary of State who has stated numerous times over the years that she would like to become Commissioner of the NFL. When I asked a few college students what they associated with the phrase "women in sports" a few immediately answered, "Sandra Bullock in The Blind Side. That woman she plays seems to be tough." (Keeping in mind that Leigh Anne Tuohy, the character Bullock played, was Michael Oher's adoptive mother and not actually an executive in the field, I was a bit insulted.) Some simply gave the names of female athletes like Serena and Venus Williams or Gabby Douglas. No one named a high-powered female executive or coach. Also the word "tough" tends to accompany the idea of a high-powered female executive, let alone one in the field of athletics.
I've always been a sport fanatic. I can't remember a time when I wasn't playing catch with my father in front of our house or watching Sunday night football. I get annoyingly excited about the Olympics and become a walking statistics feed during the World Series. But the one thing that's been a little less than perfect is people's reactions to my career aspirations. When I began my job as a sophomore marketing student with the team, so many people told me how cool they thought my new job would be. I was surrounded by friends and acquaintances wishing me luck in my new position. However, as the first few days of the job went by, I began to feel like I was being watched not by my boss or the other coaches, but by the team.
Most college-aged girls would jump at the opportunity to spend their afternoons around thirty-five male athletes. However, being the sport-enthusiast I am, I saw it as an opportunity to gain valuable experience in the field of sports marketing and management while possibly making a difference for girls who want these positions, but don't know how to go about pursuing them. Little did I know that I would spend the next few months being referred to as "the coach's daughter" in addition to numerous other incorrect labels.
Different from most managers, I focused on recruitment database work and figuring out better ways to market the team to the student body and the Omaha area. My first strategy, which involved taking action shots of the team at their first few home games, proved to be the tipping point of my ambiguous role with the organization. After all, who doesn't like having their picture taken by a random person of the opposite gender and seeing it on social media a few hours later? After taking a few very awkward pictures during pre-game warm-ups, I immediately asked my boss if he wouldn't mind introducing me to the team. I added, "Maybe it would be a good idea for the guys to know the girl who's taking their picture in the dugout." He laughed, and introduced me as the team manager two days later at practice. The looks of confusion became less apparent after that, and I was truly grateful to have straightened out the situation.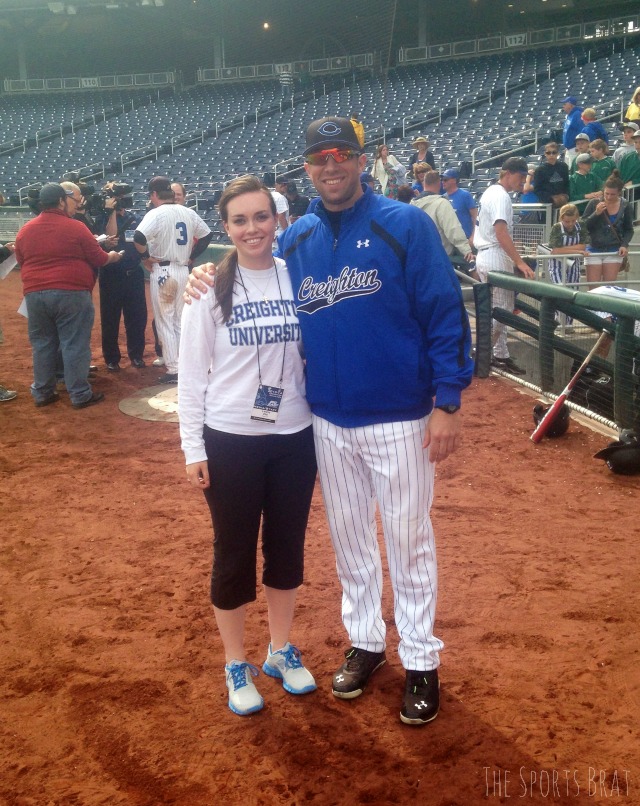 When the familiarity debacle finally ended, I bumped into some other issues. When students found out about my position with the team, I received one of two questions without failure. Girls would say something along the lines of, "You're so lucky! You get to be around all these attractive guys, are you dating any of them?" There is still no emoji to depict the frustration that arises after that question. The guys would ask, "So do you have to be in the locker room with them?" (Yes, because Title IX now allows us to share locker rooms. Give me a break.) I began to just brush those off and take them as questions that come with being any first female fill-in-the-blank. I would usually respectively answer, "No, that would be unprofessional and I'm an honest fan of the game, not a jersey-chaser," and, "No, I'm never in the locker room, I'm more of an office manager."
The fact is, when a woman gets involved in a male-dominated field, no one really knows what to do with her or how to think about it. They, sometimes, start thinking about the different ways she might have come into the position. It's often been suggested that I've talked my way into the job or threatened to claim gender discrimination if they didn't hire me. The truth is that I simply want to work in sports and this is how I was going to gain experience. Nobody asks if I sought positions with any other team or if I just chose baseball. I emailed every coach on campus asking if they needed any help or had any open positions. The baseball and softball team both wrote back and baseball ended up hiring me.
My original career goal was to become the first female commissioner of the NFL. I love football and the culture that surrounds it, but I've found that baseball is my first love when it comes to sports. If I become commissioner of the MLB one day, I'd be very blessed and grateful. However, having experienced being a female manager of a men's team at Creighton University, I know that I just want to make a difference for women.
Contributed by Leslie Dill
For more information on how you can become a contributor, click here.