A friend of mine happened to post her Buffalo Chicken Twice Baked Potatoes on Insta and I immediately started drooling. Can you think of anything yummier? I gave these a shot this weekend and decided they're the perfect tailgate treat. And, I found out that they're yummy the next day even without the microwave….just sayin'.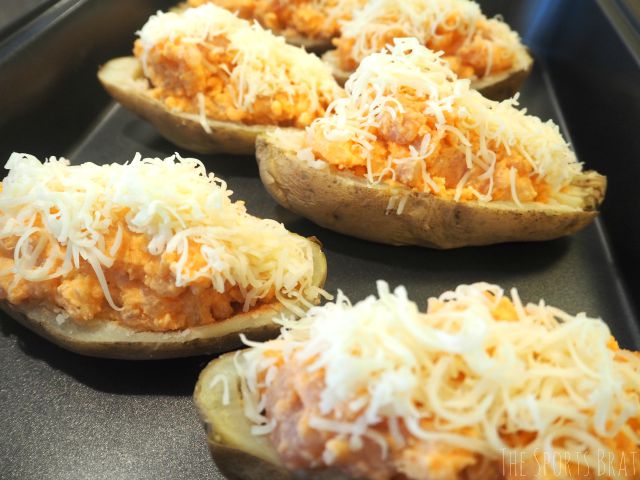 Ingredients:
3 Russet Potatoes
1/3 cup sour cream
1 tbsp garlic powder
1/3 cup blue cheese crumbles
1/3 cup + 3 tbsp favorite buffalo sauce (I die for Franks!)
1 cup chicken breast, diced small
Salt and pepper to taste
Shredded jack cheese (grate it yourself!)
3 green onions, chopped
Preparation:
Pre-heat oven to 400 degrees.
In the microwave, heat potatoes until they're cooked through. I use the baked potato setting on the microwave and it was perfect.
Once cooled, cut potatoes in half (lengthwise) and scoop out the inside of the potatoes into a bowl. Leave about ¼ of an inch of potato on the inside of all the edges.
To the bowl of potato, add sour cream, garlic powder, blue cheese and 1/3 cup of buffalo sauce. Mix until smooth.
Add chicken, stir to combine. Add salt and pepper to taste.
Add 1/3 tbsp buffalo sauce to the emptied potato. I use the back of a spoon to evenly spread the sauce.
Fill each potato with the buffalo chicken mixture and top with grated jack cheese.
Place potatoes in an oven safe dish and bake for 20 minutes.
Remove potatoes and garnish with green onions.
Enjoy!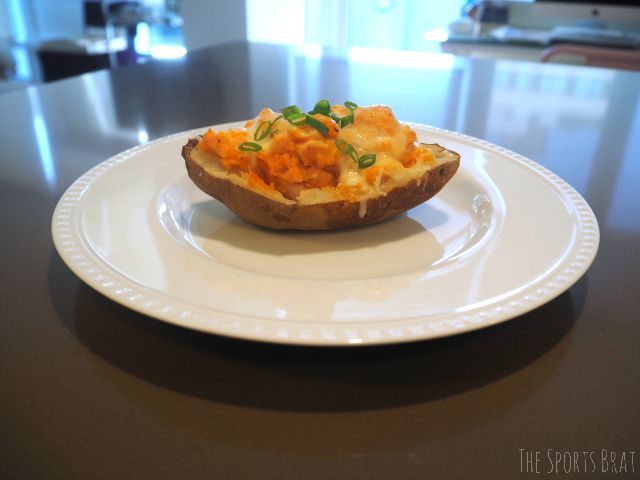 They're the perfect twist on traditional buffalo chicken for your tailgate this fall!