I could not be more excited to share this with you all! If you haven't heard of Blaine Bowen Jewelry you're missing out. Creator, Blaine Muhl first popped up on my radar when I saw an Instagram post from Sydney James (adorable little sister to the cutest NFL wife, Jessie James Decker). It was about SJ Heart B, a game day inspired jewelry collaboration. Then, as I started to follow BBJ, I saw the Simply Game Day collection and my obsession really became official.
I snapped some pics of my pieces (see the bottom of the post) AND I even got to ask creator and designer Blaine Muhl a few questions! Below Blaine dishes on the lines, working with Sydney and game day…ENJOY!
TSB: What inspired your SJ Heart B Collection?
Blaine: The Blaine Bowen brand already had a pre-existing game day collection, but I wanted to work with an Ambassador who had a positive, fun image and an interest in sports. Sydney was the perfect match. The connection between the two of us has been great, like we were long lost sisters.  Having this collection with Sydney has been incredibly fun and we really look forward to its success.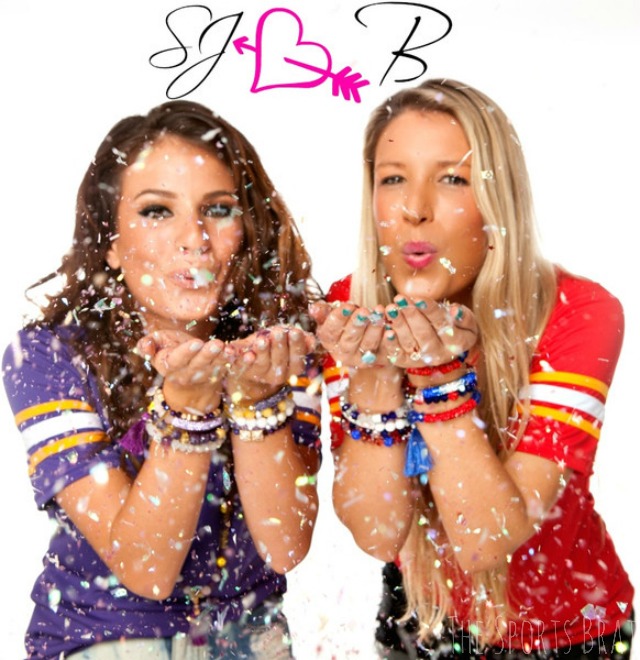 Blaine with Sydney James shooting for their collab, SJ Heart B.
TSB: What is your typical game day look?
Blaine: My typical game day look is trendy, but comfortable.  My game day "uniform" includes my chucks, some cut offs and a soft crop or tank top.
TSB: What motivated you to create the Simply Game Day Collection?
Blaine: In college, I noticed girls were shying away from the typical University T-shirts at games.  I've always loved fashion and creating things, so on a whim I cut up some t-shirts to make them crop tops, or off the shoulder tees. Soon after, I was making shirts for all of my sorority sisters and getting paid to alter shirts.  I had the idea for the line about 7 years ago and just put it into action in 2012.  I noticed a gap in the market and did my best to fill it in an on-trend and fun way.
TSB: Do you have a favorite team? Favorite player?
Blaine: My favorite team for Football is the Kansas City Chiefs (My hometown).  My favorite player of all time is Joe Montana.  I don't think there's been anyone like him on and off the field.
TSB: Do you have any advice for our readers on how to dress for a game?
Blaine: Be comfortable! No one wants to drink beer and eat pizza in a tight, uncomfortable outfit…no matter how cute it is.  If you're uncomfortable…it'll show.  That's why I focus on the chic, comfortable, and laid-back fabrics in my designs.  I always love chucks, distressed denim shorts with an off the shoulder tee, sweatshirt or tank. I also love pairing my mid calf Frye and Steve Madden boots with shorts for a cute look with crop tops, tanks and sweaters.  Our short sleeve dresses look great with a team-colored sweater and cowboys boots.  We are going to start doing 'game day look of the week', so stay tuned for fashion ideas!
Thank you so much to Blaine!! We love BBJ! Make sure to head over and place your order today ladies. Here are some snaps of my new purchases 🙂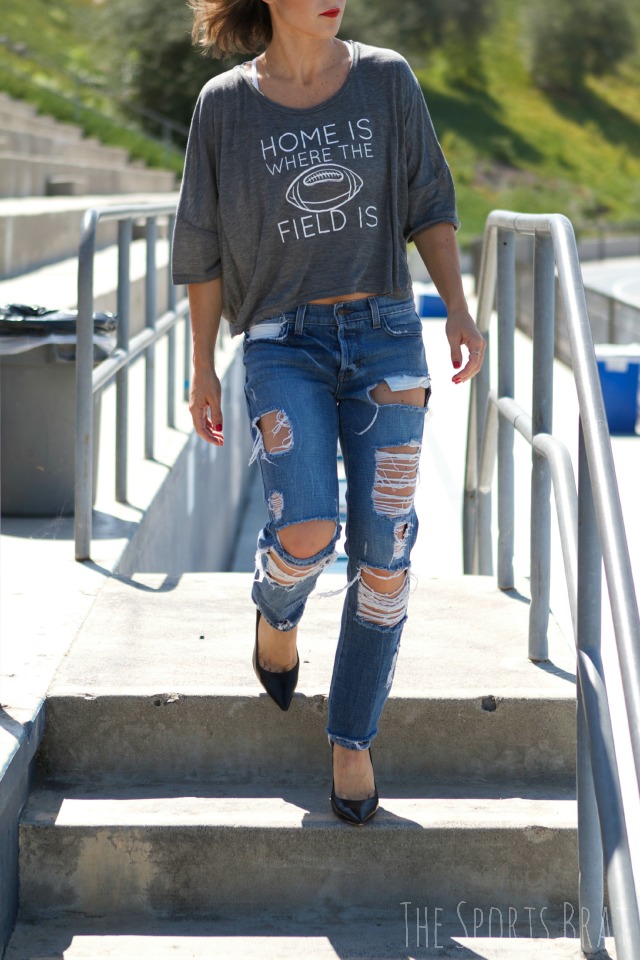 Purchase "Home is where the field is" here.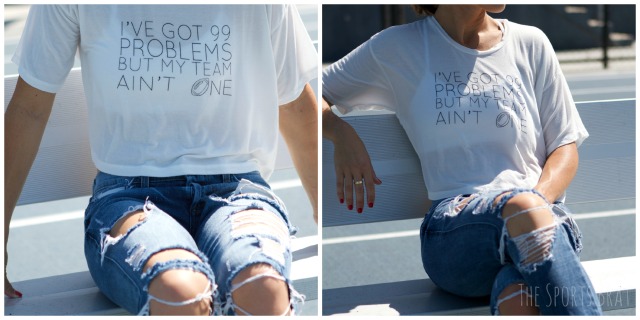 Purchase "99 problems" here.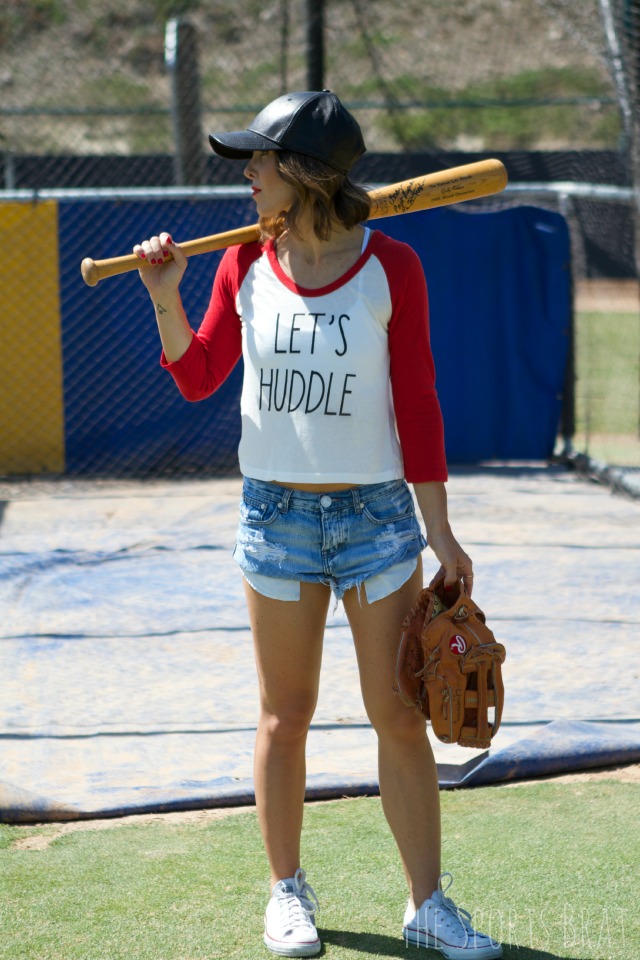 Purchase "let's huddle" here.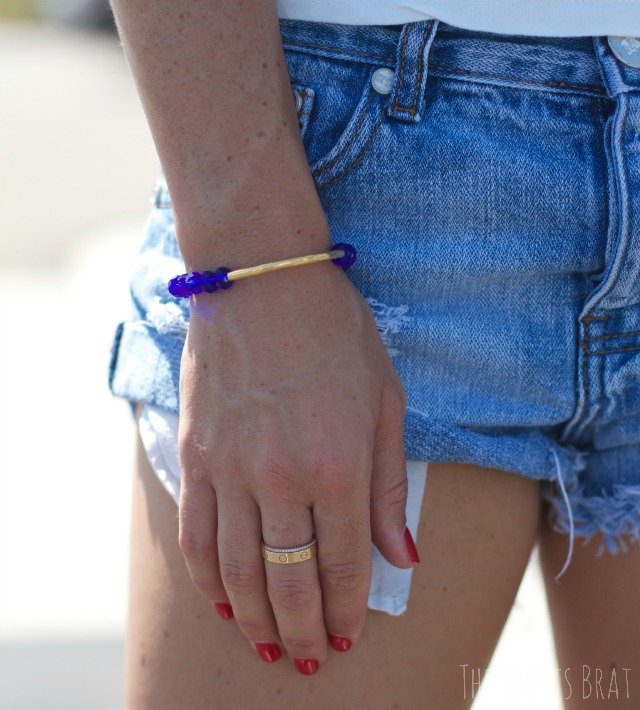 Purchase bracelet here.